Natural Hormones are essential to healthy, vigorous and more youthful bodily function.
Natural hormones are derived from plant sources, usually soy or yam, and then modified to become chemically identical to human hormones. Because they are exactly what the human body produces, we refer to these hormones as biologically identical or "Bio-Identical" for short. These "prescription-only" hormones are then used to replace missing or depleted levels in the body.
In order to be your best, men and women must maintain a proper balance of the natural hormones:
Estrogens
Progesterone
Testosterone
DHEA
Pregnenolone
Cortisol
Thyroid
"Bio-identical" hormones, naturally occurring in the human body, cannot be patented by drug companies and are therefore largely supplied by compounding pharmacies.
Our pharmacist founder, Jim Hrncir, received national attention when he appeared on several episodes of the Dr. Phil Show. Jim worked with Dr. Phil's wife, Robin McGraw to achieve hormone balance. He is also featured in her book, What's Age Got to Do with It?: Living Your Healthiest and Happiest Life. Hrncir says experts in the field refer to a large number of studies which suggest the balanced use of natural hormones help patients feel better and possibly lower the risk of heart disease, osteoporosis, and cancer.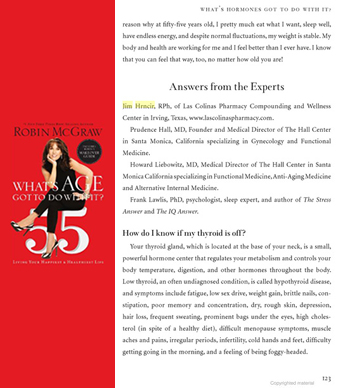 Let Jim show you how to properly apply your hormones in this short video: