Jim Hrncir, R.Ph., Owner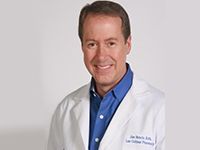 Jim Hrncir RPh and wife Jan founded Las Colinas Pharmacy, Compounding & Wellness in 1984 and have maintained PCAB Accreditation since 2014. Recognized as one of the pioneers of modern pharmaceutical compounding, Jim's 1986 creation of Estradiol Transdermal Gel was the first of its kind in the United States. He is responsible for the formulation of many Bio-Identical Hormone, Dermatological, Nutritional, and Anti-Aging compounds in wide use throughout the United States. Jim was named the 2017 Compounding Pharmacist of the Year by Professional Compounding Centers of America (PCCA) and serves on the board of the International Academy of Compounding Pharmacists (IACP). NCPA's magazine America's Pharmacist featured Jim and Las Colinas Pharmacy as the cover story for December 2018. READ THE FULL ARTICLE
The internationally syndicated Dr. Phil Show featured Jim on several episodes as an expert in Bio-Identical Hormones and Pharmaceutical Compounding. Dr Phil's Wife, Robin McGraw, promoted Jim's Anti-Aging Skin Care product- Vitamin C Infusion Cream on separate episodes. In Robin's latest book What's Age Got to Do With It?, Jim contributed the chapter on Hormones and Thyroid (proclaimed by Oprah as her "favorite chapter!"). Dr Phil and Robin recruited Jim to help develop her Anti-Aging skin care line, Revelation, released in Nov 2016.
OHB Integrative Medicine Assessment and Management Software. Utilizing a team of integrative medicine specialists, Jim spearheaded the development of a software program used by Integrative Medicine providers and Consulting Pharmacist to better assess, manage and treat female and male BHRT, thyroid and functional medicine cases. The software also makes recommendations for supplements based on support of medical conditions and drug-induced nutrient depletions. Jim continues to provide extensive clinical patient consultations utilizing the software.
Our pharmacist Jim Hrncir and Las Colinas Pharmacy were featured in the December 2018 issue of NCPA's America's Pharmacist magazine. Read the full article here.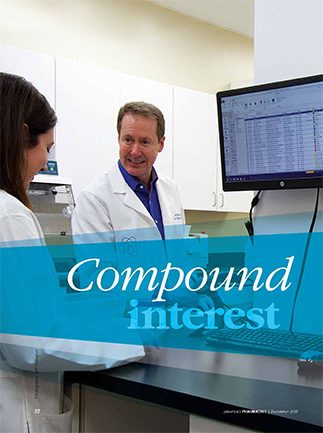 Optimum Therapeutic Solutions (OTS)- professional use supplement line. With nutrition and supplements occupying such an important place in his practice, Jim and his team developed an exclusive line of supplements, employing only the highest quality and research-based formulas. The team also developed a web service that uses algorithmic logic to make supplement recommendations based on support of medical conditions (ICD-10 codes) or drug-induced nutrient depletions. APIs to the web-service are set up for OHB software, OTS e-store, and for pharmacy management software. The line is only available to pharmacists and medical providers, via wholesale or through revenue sharing sales on the OTS e-store.
In demand to train physicians, mid-level medical providers, nurses and pharmacists, Jim provides a 12-contact hour course entitled "Nuts and Bolts Training for Bio-Identical Hormones, Thyroid and Anti-Aging Medicine". Providers receive intense, real-time, "how to practice" information on BHRT for Males, BHRT for Females, Thyroid, Low Dose Naltrexone, Adult Growth Hormone Deficiency, Ethical Nutritional Supplements, and Principles of Anti-Aging Medicine. Jim is often called upon to lecture at professional conferences on topics such as Traumatic Brain Injury and PTSD, Ketamine for Treatment Resistant Depression, Bio-Identical Hormone Assessment and Treatment Plans, and Thyroid Optimization: Assessment and Treatment Plans.
Jim has received extensive continuing education in the areas of Bio-Identical Hormones, Nutrition, Anti-Aging Medicine, Weight Management, Pain Management, Neurotransmitter Management, Natural and Functional Medicine including the use of botanical medicines, nutritional supplements, Detoxification and Purification, homeopathy and lab testing. He has lectured across the country on a variety of topics including Clinical Patient Consulting, BHRT Assessment and Case Management, Low Dose Naltrexone, Traumatic Brain Injury Treatment Protocols, and Ketamine for Treatment-Resistant Depression and PTSD.
Jim is a member of Professional Compounding Centers of America (PCCA), American Academy of Anti-Aging Medicine, Age Management Medical Group, Texas Pharmaceutical Association, International Academy of Compounding Pharmacists and the National Association of Community Pharmacists.
---
Dennis Burke, R.Ph.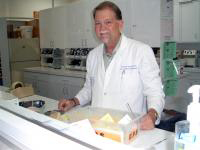 Dennis has been practicing pharmacy for over 40 years. A 1981 graduate of the St. Louis College of Pharmacy, Dennis joined the staff at Las Colinas Pharmacy Compounding and Wellness Center in 1998.
Dennis is a member of the Texas Pharmaceutical Association, the National Association of Consultant Pharmacists and the Alliance for Pharmacy Compounding.
He received extensive training in the areas of Infectious Disease, Pain Management, Veterinary Medicine, Bio-Identical Hormone Replacement Therapy, Weight Management, Osteoporosis Management, Cholesterol Management, Natural Medicine including botanical medicines (herbals) and nutritional supplements.
Dennis completed advanced education in Hormones and Obesity treatment, focusing on the links between obesity, high cholesterol, hypertension, cardiovascular disease, diabetes, and other medical disorders. He provides diagnostic testing for common hormonal imbalances that cause weight gain.
He serves as Adjunct Professor of Pharmacy Practice for Texas Tech College of Pharmacy, University of Texas at Austin College of Pharmacy and St. Louis College of Pharmacy.
Dennis lives in Irving with his wife Jane.
---
Karen Moody, Pharm.D.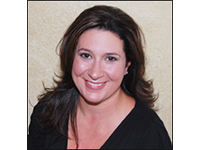 Karen is a graduate of the University of Texas where she received both a BA in Biology and a Doctorate in Pharmacy.
Prior to joining the Las Colinas Pharmacy team, she received training in the areas of oncology, psychiatry, compounding, cosmetic formulations and internal medicine.
Karen has been featured in USA Today as well as interviewed by local news stations about various pharmacy related issues.
In addition, she has attended educational seminars in areas specializing in Bio-identical Hormone Replacement, Herbal Medications, Nutritional Supplementation, Compounding, and Immunizations.
Karen is an adjunct faculty member with Texas Tech University Health Science Center and the University of Texas at Austin where she teaches incoming pharmacy students about compounding, community pharmacy, and natural medicines.
Karen is also a member of the Texas Pharmacy Association, the Texas Ex-Student association, and the Longhorn Foundation. She has given multiple seminars on Natural/Bio-identical Hormone Replacement to patients and doctors around the Dallas-Fort Worth area and is available for consultation at any time.
Karen resides in Flower Mound with her husband, Scott, her two children, Jack and Addison.
---
Alexi Brantmeier, Pharm.D.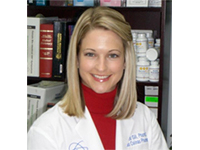 Dr. Alexi Brantmeier is a graduate of the University of Texas where she received a Doctorate of Pharmacy in 2007. She also attended Texas Tech University while completing her pre-pharmacy requirements. During her internship year, Lexi received training in compounding, oncology, and internal medicine.
Lexi is a member of the National Community Pharmacists Association, the Texas Exes and the UT College of Pharmacy Alumni Association. She also enjoys being a preceptor for pharmacy students during their community pharmacy rotations. Lexi has been trained to administer immunizations and other injectable medications such as vitamin B12. Having completed an extensive post graduate prescription compounding and quality control course, Lexi provides valuable input in maintaining Las Colinas Pharmacy's patient care.
Lexi and her husband Paul enjoy going to the lake, snow skiing, cooking, and entertaining friends and family. Additionally, they are proud to be involved with their church in Dallas where they spend time serving with the high school ministry.
---
David Bonfessuto, RPh, DC, NP-C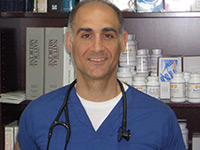 Dr. David Bonfessuto is a Compounding Pharmacist, Chiropractor and Family Nurse Practitioner with over 25 years of experience.
Dr. Bonfessuto founded Balance Health & Hormones, Located in Las Colinas Pharmacy. There he concentrates on Bio-Identical Hormones, Weight Loss, Thyroid Dysfunction, and Adrenal Fatigue.
Dr. Bonfessuto has a strong commitment to providing evidence-based bio-identical hormone therapy through a patient-centered holistic approach. When defining the best treatment plan for each patient, he takes into consideration his or her age, overall health, blood work, and current issues he or she may be experiencing. He also factors in the patients lifestyle such as: exercise, diet/nutrition, supplementation, personal expectations and goals. This comprehensive approach allows for the patient to feel and look their best while achieving optimal health.
---
Haley Montanaro, Pharm.D.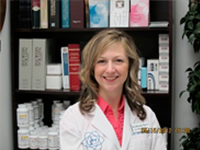 Dr. Haley Montanaro joined the Las Colinas Pharmacy team in early 2012. She is a graduate of the University of Mississippi "Ole Miss" School of Pharmacy where she received a Bachelor's of Science degree and a Doctorate of Pharmacy in an accelerated program 2 years later. During her internships, Haley focused on compounding, nutrition, pediatrics, and drug information research. Haley prides herself in paying attention to details and exploring all options to ensure great care for each patient.
After an 8 year career in retail pharmacy, Haley has redirected her career to her initial love in pharmacy- compounding. Haley is a board-certified preceptor and enjoys teaching interns about community pharmacy and compounding. She has received extensive training in compounding from PCCA and is also certified in immunizations.
Haley is a member of the Texas Pharmacy Association, Mississippi Pharmacy Association and maintains licenses in Mississippi, Georgia and Texas. She is a Life Member of the Ole Miss Alumni Association and an avid Ole Miss Rebel fan!
---
Jonathan Head, Pharm.D.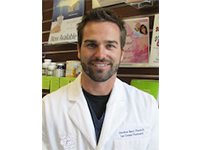 Jonathan has been with us since 2013 and has assumed the role of pharmacy manager. He completed his Doctorate of Pharmacy from Texas Tech University School of Pharmacy in May 2014. He is an alumnus of the University of Oklahoma, where he received a BS in Bio-Chemistry, prior to attending pharmacy school. During his final year of pharmacy school, Jonathan participated in an internship and pharmacist-intern program with Las Colinas Pharmacy. Jonathan is a licensed immunizer, and can administer in-store vaccines. He received training in areas of pediatric care, compounding, diabetes and hypertension management, veterinary compounding and internal medicine.
Jonathan grew up in Argyle. He has always had a strong passion for independent compounding pharmacy and has a love for delivering individualized patient care.
He is a member of the American Pharmacists Association, Texas Pharmacy Association, and Dallas Area Pharmacy Association. He enjoys spending his free time traveling to visit family (including 6 nephews/nieces) and friends, hunting and fishing, playing golf, and is an active member at his church in Dallas.
---
Sherin Kuriakose, Pharm.D.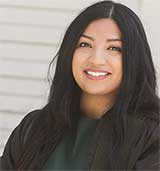 Sherin Kuriakose is our newest pharmacist and a graduate of University of Texas, Tyler School of Pharmacy. Sherin has been a member of the Las Colinas Pharmacy team since early 2016 when she joined as a pharmacy technician and continued to work for us while she pursued her Doctorate in pharmacy.
Sherin is a member of Texas Pharmacy Association, National Community Pharmacists Association, and International Academy of Compounding Pharmacists.
Sherin has always been passionate about compounding and focused her internship years in pharmacy school to advance her knowledge in individualized patient-centered care and functional medicine. Sherin is also trained in various areas of pharmacy like acute care, internal medicine, ambulatory care, weight loss and medication therapy management. She is a certified immunizer and has received CORE compounding training from PCCA. She is excited to continue learning the nuances of bio-identical hormone replacement therapy and help our patients achieve optimal health.
Sherin lives in Irving with her husband and loves spending her free time traveling around the world with family and friends.
---
Debbie Estes, A.C.N., CPhT.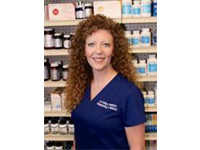 Debbie has been in the healthcare industry for over 27 years, with an intense focus over the last ten years in functional medicine.
Debbie has been the Nutritionist for Las Colinas Pharmacy Compounding and Wellness Center since 2003 and is committed to helping patients achieve optimal health and well-being.
She received extensive training in nutrition and preventative medicine and holds numerous certifications, including Applied Clinical Nutrition through Texas Chiropractic College, Functional Endocrinology, Traditional Chinese Medicine, Homeopathy and Homotoxicology. She also continues advanced studies in the areas of Herbology, Nutrition Science, Health and Wellness.
Debbie is also a Board Certified Pharmacy Technician and continues to maintain her licenses through the Texas State Board of Pharmacy and the National Pharmacy Technician Certification Board. She completed formal training in Compounding using USP <797> Non-Sterile Compounding Regulations. Debbie's emphasis is on Bio-Transformation, specializing in Clinical Purification and Weight-Loss Support. She has completed an intensive detoxification study program dedicated to the scientific understanding and application of clinical detoxification and nutrition for the achievement of optimal health and vitality.
In her practice, Debbie uses functional medicine approaches in regulating and assessing biochemical mediators in the treatment of metabolic disorders. She integrates complementary, nutritional, and lifestyle therapies thereby taking a truly holistic approach to healing. She teaches our patients how to incorporate a combination of whole food supplements, cleansing protocols, nutrition and lifestyle changes to reverse dis-ease, restore health and energy, and successfully navigate their own healing journey.
By using her vast knowledge in the use of nutritional supplements and emphasizing a whole-foods approach to health and weight management, Debbie has helped thousands of people look and feel better than ever.
Debbie is a lifelong resident of Irving, Texas and is active with her son's Boy Scout Troop.
---
Stacy Hightower, CPhT.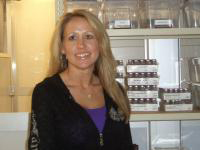 Stacy has been with Las Colinas Pharmacy Compounding and Wellness Center since 1985. She is a Board Certified Pharmacy Technician licensed through the Texas State Board of Pharmacy and the National Pharmacy Technician Certification Board. Using her extensive knowledge and skills, she has built a successful aseptic practice at Las Colinas Pharmacy. Her expertise is in both pain management and veterinary compounding.
Stacy received extensive training in Compounding using USP Regulations. She is extremely knowledgeable of and conducts Quality Assurance Procedures and Practices at our pharmacy.
When not at work, Stacy enjoys spending time with her family. Her hobbies are riding and showing Quarter Horses and keeping up with her two boys. She and her family reside in Aubrey, Texas.
---