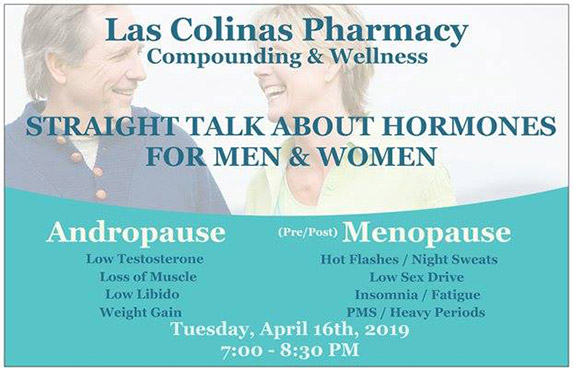 Straight Talk About Hormones For Men and Women Seminar
You cannot miss nationally known expert, Jim Hrncir, RPh, presenting another seminar in his series of how to look and feel your best. Learn how critical hormone Balance and Optimization is for the health of women and men. Discover the secrets of the experts! Please Note: The Seminar date has changed from April 9th to April 16, 2019.
Tuesday, April 16, 2019
7:00 PM - 8:30 PM
Presented by:
Jim Hrncir, RPh
Great room in Las Colinas Pharmacy
Register now! Seating is limited.
The seminar is FREE, but please RSVP by completing the form below, emailing nutrition@lascolinaspharmacy.com or calling 972-993-9700.
---
Check back frequently for our current events. To be sure you do not miss an upcoming event, please sign up for our email newsletter.