Welcome to Las Colinas Pharmacy
Established in 1984, Las Colinas Pharmacy is recognized for providing the highest level of service, whether dispensing traditional prescription drugs or personalized, compounded medications. One of the original pioneers in pharmacy compounding, Las Colinas Pharmacy sustains cutting edge knowledge, technology and quality control procedures. LCP is proud to claim accreditation by PCAB (Pharmacy Compounding Accreditation Board). Keeping abreast of the latest in emerging integrative medicine therapies, our patients and providers receive the absolute best, evidence-based healthcare available.
Please investigate the wide variety of services we offer. Our staff of seven pharmacists utilize their widely-diversified experiences, knowledge, and expertise to help our patients achieve optimal health. We hope to have you as a patient or provider soon!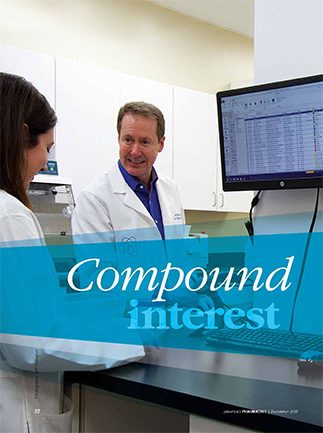 Our pharmacist, Jim Hrncir and Las Colinas Pharmacy were featured in the December 2018 issue of NCPA's America's Pharmacist magazine. Read the full article here.
Dr. Jim Hrncir Talks Aging and Health
Low Dose Naltrexone Radio Interview
Enlightening radio interview with integrative medicine pharmacist - Jim Hrncir RPh and U.K.'s Linda Elsgood, internationally known expert in Low Dose Naltrexone therapy. Poignant patient conditions that affect us all are discussed, centered around auto-immune, inflammatory and insulin resistance/cholesterol disorders.